The first desktop waterjet.
Now cut anything with digital precision using high pressure water. A compact waterjet for every workshop.
FEATURES   SPECS   FAQ 
Reservations placed today are expected to ship April 2019.
US & Canada only. other countries?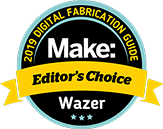 ---
GARNET ABRASIVE
80-Mesh Alluvial Garnet Abrasive is preferred and calibrated for use with your WAZER to provide outstanding quality and performance. We offer Garnet in a 55lb bucket or 2,200lb pallet to suit your project needs.